Founder, President, and CEO
Professor of Engineering at University of Massachusetts Boston and Former Director of the Hypermedia Lab at Massachusetts Institute of Technology
Dr. Nish is a pioneer in the field of solar energy technology. He is actively involved in Molecular Dynamics simulations and Raman Spectroscopy research related to advanced material interfaces and nanomaterials for solar applications. His research related to advanced materials and solar applications motivated him to create SunDensity's SmartScreen Technology, which has the potential to revolutionize the solar energy industry. His current research interests are focused on the development of solar quantum interactions for the development of ultra-high efficiency solar cells.
Sr. Director of Parterships
Former Commercial and Utility Scale Solar Plant Developer and Global Business Development for emerging Light Harvesting Technology (DSSC)
Kevin has over a decade of marketing experience in the solar energy industry. He was the Director of Business Development for third generation thin film PV technology, Konarka Technologies developing and deploying projects around the world. At Nexamp, a leading regional commercial/utility solar plant developer, he managed the full development cycle of commercial solar projects from concept to design, financing and EPC execution. At ElectricFilm, a low light harvesting PV technology firm, Kevin was Vice President of Sales focused on the commercialization of the light harvesting technology to power a broad range of sensors for the Building Internet of Things.
Rick brings an ocean of experience in the solar energy industry to SunDensity. His prior experience as a former President of Prism Solar Technologies, Direct Global Power & SunWize Technologies is a positive impetus to our team at SunDensity. Over his career panning 30+ years, he has gained expertise in scalable manufacturing of solar products for utility scale power plants. He has also been an Executive director at the Center of Clean Energy Technology among other stellar achievements. With Rick on board, we at SunDensity are excited for the road ahead.
Frank is an accomplished executive with a proven track record for designing, developing and executing strategic partnerships and global programs to accelerate company growth, with considerable experience in startup and new product launch environments. A professional with more than 18 years of experience with leading technology firms Affinnova, Novell, SUSE, and BlackDuck Software. Currently working with several startup companies in the energy tech sector: solar, storage, smart grid, and blockchain. Involved in fundraising, business strategy and go to market initiatives. Also working with Helpanswers.org, a not-for-profit organization whose mission is to bring energy technology literacy to people.
Frank recently worked for over 2 years as part of the Boston Smart City Collaborative, collaborating with the city by bringing his technology knowledge and partners together to discuss IOT and Smart City ideas, concepts and initiatives. Supported the City to develop RFI/ RFQ for Energy, Transportation, Telecom and Center of Excellence.
Dr. Piret leads Newbury Piret international M&A activities, with an emphasis on assisting European buyers who seek expansion opportunities in the US market. As an investment banker and CEO, Dr. Piret has negotiated private equity investment, licensing and joint venture/strategic alliances agreements. His specialties include strategic and financial advisory services with an international focus; in-depth acquisition search for the US and abroad; managing cross cultural relations and problem-solving; and performing sale, licensing, and valuation advisory of US assets. He is an expert at valuing and evaluating technologies, intangibles, and companies, and is a Certified Valuations Analyst. Dr. Piret has extensive experience in the formation and development of technological and engineering companies. Previously, he was President and founder of Corion Technologies, Inc., a maker of static electricity elimination instruments for process industries, focusing on in sales, manufacturing, engineering and product development.
John is also a Director of Hyannis Port Research, Inc. and of the European American Chamber of Commerce in France. He is a Mentor at MIT's Venture Mentoring Service, the CleanTech Open, and MassChallenge, as well as a Harvard i-Lab student advisor. He also served on the Advisory Committee for Shareholder Responsibility for Harvard University's endowment fund, as a Director of Nascent Technology Corp. (a UAV avionics company), and as a member of the President's Council of the Olin College of Engineering.
Dr. Val R. Livada, PhD, serves as Advisor of Vanguard Solar, Inc. He is a Founder of Weybridge Partners, Winchester, MA, and serves as its Chief Executive Officer. He served as a Vice President of Pugh-Roberts Associates, a technology management firm established by MIT Entrepreneurship Professor Ed Roberts. Dr. Livada served as Consulting Partner of Synchrony Venture Management, Investment Arm. He is Co-founder and Principal at Dome Associates, a group of MIT alumni focusing on issues of innovation and entrepreneurship. He is also Principal at IP Vision, as well as Weybridge Partners. Dr. Livada has spent over 25 years as a management consultant to both Fortune 200 and emerging companies. He has over 30 years of experience in the areas of strategic planning and organizational dynamics with detailed knowledge in the areas of innovation, product development and R&D management.
Dr. Livada has worked with Global 300 companies such as GM, Nokia, BD, and Hitachi, startup ventures, regional development organizations and university technology transfer groups. During his career, He has combined expertise in the areas of strategic planning and organizational dynamics with a detailed knowledge in the areas of innovation, product development and R&D and management. He serves on the Boards of Monarch Antenna, Aphios Corporation, AutoHarvest Foundation, and the Built Environment Coalition. Dr Livada is also an advisor to Unitied Technologies Business Innovation Board, Greentown Labs and BGI. Dr. Livada has been a Guest Lecturer and Senior Lecturer on Corporate entrepreneurship at the MIT's Sloan School, Management of Technology Program for the last 12 years. He serves at Cambridge University/MIT Institute on a variety of topics including Innovation, Entrepreneurship and Growth as well as Industry/University relations. Dr. Livada received his undergraduate degree from MIT and his MA and PhD from Tufts University.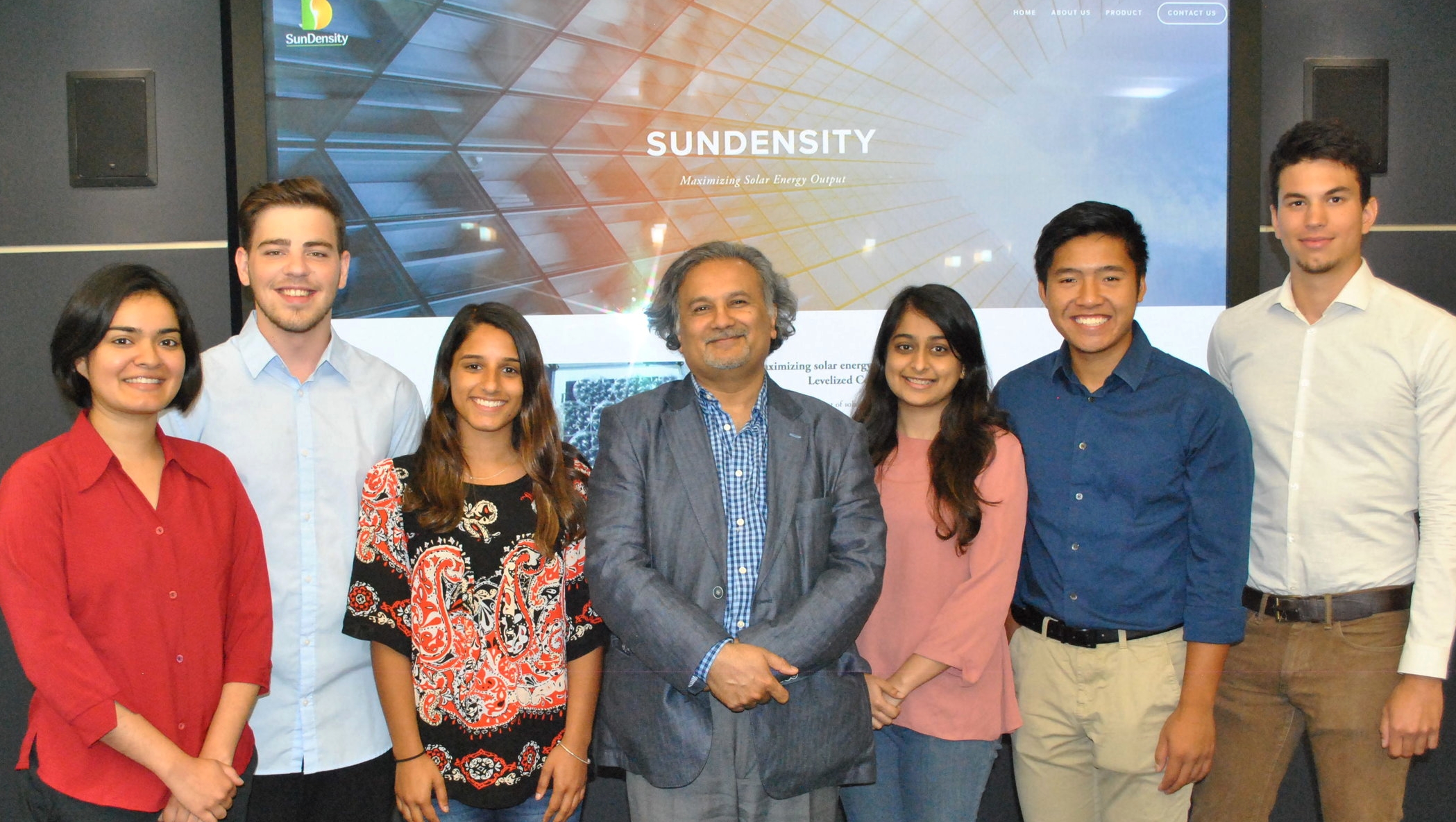 Members of the SunDensity team at their office in the Venture Development Center